SPECIAL MEMBERSHIP SUCCESS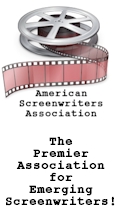 Congratulations on choosing to take advantage of the ASA Premier Special membership.
Within the next few days you will receive your membership email and access information, including your ASA Premier membership card.
Please be patient while we process your special membership. In the meantime, do you have a screenplay you would like to register?
We Offer FREE commercial registration to ASA Premier members for the life of your Premier (or higher) membership. Simply create a PDF version, and once your Premier membship is ready, you can take advantage of that special service!
Thanks and KEEP WRITING!
Steve Kirwan
Executive Director