Kanarian Kindred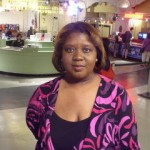 Kanarian, who holds a Bachelor of Science Degree in Management from Grambling State University, shares a true passion for writing. For years she served as a freelance writer for YaHeard Magazine, an urban music publication formerly based in Milwaukee Wisconsin.
A true jack of all trades, Kanarian also served as a guest book review for RAWSISTAZ, a literacy group that focuses on promoting the work of African American writers. Currently she's featured in "Mocha Chocolate: Taste A Piece of Ecstasy", an anthology published via Nayberry Publications. In addition, she's a member of NABJ (National Association of Black Journalist) as well as contributing writer for Everything Girls Love digital magazine.
Born in Opelika, Alabama, Kanarian has penned her memoirs for a 2012 release via KSP, her self-publishing imprint. A one woman show, Kanarian is a self-motivated, proactive, resourceful artist with a "refuse to fail" attitude.  
Contact info:
kanarian@kanariankindred.info.
Twitter handle: @Kanarian